The Badge:
The Bowling Clubs badge is based on Fareham's Crest/Coat of Arms
They were granted to Fareham by Earl Marshal's warrant and by the College of Heralds in 1947.
The background of the Arms is black, which indicates Fareham's strong association with industry and with particular reference to the iron smelting process developed by Henry Cort.
On the water is an ancient ship of gold representing the Town's ancient prosperity as a port and shipbuilding centre.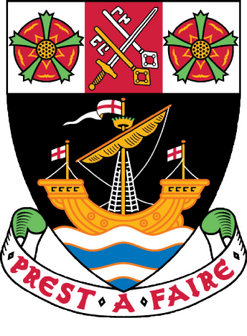 The ship flies the flag of St George, which was customary in medieval times.
In the top part are the Arms of the See of Winchester, recalling that Fareham was in the past part of the endowment of the See and was formerly part of the diocese of Winchester.
The keys and sword refer to the parish church of SS Peter and Paul.
On either side of the keys is a red rose which is the chief emblem of Hampshire and symbolises the county's former Lancastrian association and its grant by John of Gaunt.
The motto is French and, roughly translated, means 'Ready to act'.