Men's League Teams
Portsmouth & District BA
Mixed League Teams
Gosport & Fareham
Mixed Triples League
Ladies' League Teams
Portsmouth & Dist Womens BA
Presidents Charity 2023
Cheque for £1,800.00 handed to Guide Dogs for the Blind Charity.
A letter of thanks to the members of Fareham Bowls Club, was received after its generous donation of £1800.00, which was raised throughout this years outdoor bowling season.
Charlie Bailey, President at the club for 2023 said: "I am delighted with the response of the members to raise such a significant amount of money".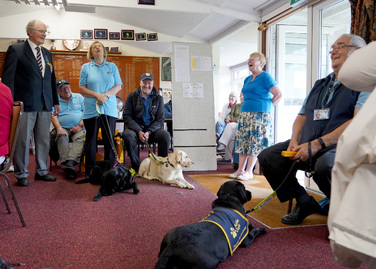 Saturday 23 September 2023
Macmillan Coffee Morning
Thank you to everyone who came to the Macmillan coffee morning today - £425.00 was raised which is a brilliant total. If you couldn't make the coffee morning but would like to donate there is still time -
Fareham Bowlers 2023 catchup

Bowls England National competitions - Singles Champion of Champions
Rosemary Bailey reached All England round of 32 sadly losing out to one of the eventual semi-finalists at Leamington Spa.
Bowls England National competitions - Senior Singles
Dorian Bishop reached National finals at Leamington Spa sadly losing out in the first round.
Fareham ladies were area winners of the Thornbery Trophy and played in the county semi-final at Bannister Park
Portsmouth & District - Midweek Triples
Captain John Thorpe took his team to the top of Division One and then beat Bedhampton in the playoffs (68-35 and 48-48).
Portsmouth & District Combination League
Captain Mike Colemans, Fareham C have clinched their place as champions of P&D Combination Division 2 and gained promotion to Division 1 for next season.
Portsmouth & District Triples Winners
Cyril Friend, Chris Kircher and Bob Scottow won the final, played at Fareham beating Lee on Solents Martin Ellis.
Gosport & Fareham Leagues:
Fareham Black – 1st - Division 1
Fareham Yellow – 4th – Division 2
Fareham Red – 2nd – Division 3 (promotion to Division 2)
Fareham White – 4th – Division 3
Fareham Green – 2nd – Division 4 (promotion to Division 3)
Saturday 19 August 2023

Rowland Hospital Cup Final

The Final of the Portsmouth & District Rowland Hospital Cup was played at Lee-on-the Solent Bowls Club.
Fareham became the Cup Winners after beating Alexandra Bowls Club Portsmouth.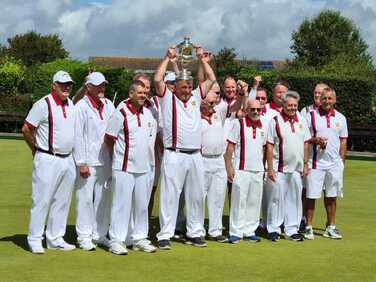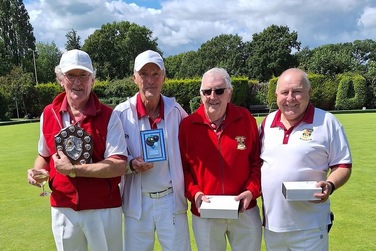 Sunday 6 August 2023
Gosport and Fareham Bowls Finals
Fareham Bowlers: Charlie Bailey won the Presidents Singles Competition with Paul Nicholls as Runner up.
Cyril Friend was runner up in the G&F Masterman Trophy and Steve Caine was runner up in the Secretary/Treasurer competition.
Saturday 29 July 2023
P&DWBA Club Challenge Winners 2023

Fareham Ladies have won the Club Challenge (P&DWBA) with a win in all 4 Rinks.

P&D Mixed Pairs Winners 2023
Congratulations to Fareham's Sue Wheeler who with Dave Wildman (LP) are 2023 Champions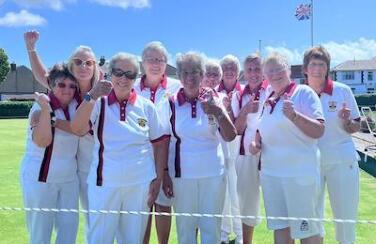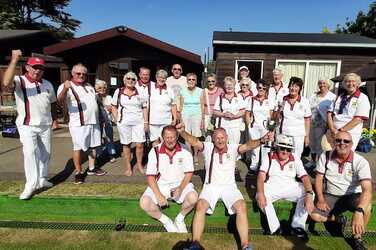 Sunday 25 June 2023
Fareham Matchmaker Winners 2023
Fareham winners of the Matchmaker trophy, played at Crofton Bowling Club.
Fareham won eight of their nine games beating Crofton, Portchester and Lockswood Bowling Clubs.
Sunday 12 March 2023
Palmerston Cup
Fareham Aqua crowned 2022/23 Palmerston Indoor Bowls Cup winners
Fareham Aqua defeated Lee on Solent 63-22 in the final of the indoor bowls competition which has been running for the last few months on a weekly basis in the town's Palmerston club.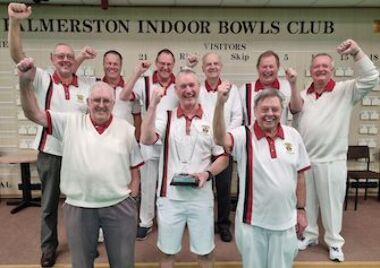 | | |
| --- | --- |
| | |
| Fareham Bowling Club | Club Competitions 2023 |
| | |
| Ladies Singles | |
| Sue Wheeler | Katie Mills |
| Mens Singles | |
| Charlie Bailey | Mark Warttig |
| Mens Handicap Singles | |
| Paschal Powell | Terry Salmon |
| Ladies Pairs | |
| Sandy Pullin, Sue Wheeler | Gina Pindar, Rose Bailey |
| Mens Pairs | |
| Bob Alger, Colin Clark | Pete Barnard, Ian Wilson |
| Mixed Pairs | |
| Debbie Sowrey, Danny Russell | Nicky Bateman, Laurie Sowrey |
| Mens Triples | |
| Mark Auckland, Richard Playford, Steve Rayner | Paul Dunne, Graham New, Chris Kircher |
| Mixed Triples | |
| Katie Mills, Pete Barnard, Danny Russell | Pam Bartram, Nicky Bateman, Brian Shakespeare |
| Eunice Macartney Trophy | |
| Paschal Powell | Ian Wilson |
| Australian Pairs | |
| Terry Andrews, John Thorpe | Pete Barnard, Danny Russell |
| Past Members Memorial Trophy | |
| | |